Just some fun things to note.
Number 1- If you are dying to try quilting, but have never done it before,
Old Red Barn Co.
is having a quilt-along that is for beginners. And there are LOTS of amazing prizes for those who join!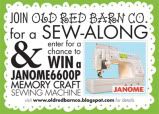 Number 2-
Sew Mama Sew
is have a May Giveaway Day where LOTS of blogs and stores will be having giveaways all on the same day! So if you like handmade stuff, or if you just like free stuff, check it out on May 27!