The latest being this: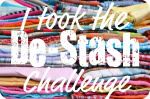 Andrea has establish the Great De-Stash Challenge, of which I SERIOUSLY need to be a part! I have fabric 'literally' covering the entire floor of my sewing room-- several feet deep in places!
(I can't show you! I just can't. . . It is too embarrassing. . .)
I am going to go on my own Fabric Fast until my stash has been decreased enough to actually fit into all the shelves/containers/piles that it is SUPPOSED to fit in-- with a little room to spare!
That means I will need to use up some of these. . .


(vintage/thrifted sheets-- gotta love 'em!)
These piles are simply out of control!
(All my knits-- they keep spilling over every time I touch them!)
And I simply HATE having my quilting fabric in these rubbermaid boxes! I can't ever find anything I need without dumping the entire box out and can never remember what is in there. . .
Okay-- that is all I am going to show you. You will just simply have to imagine the rest. . .
I dare you! ;0)
PS If any of you fabulous people live in Idaho, I will pay you ~in fabric~ if you will come and clean up my messy, disasterous room!